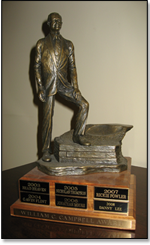 The Campbell Award was awarded from 2003 to 2013.
The William C. Campbell Award was created by organizers of the Northeast Amateur, The Players Amateur and Porter Cup to honor the former USGA President and one of the all-time leading amateur players. Established in 2003, the Award was presented annually to the individual who recorded the low aggregate score in the three tournaments combined.
Mr. Campbell is an eight-time United States Walker Cup team member and former captain. He is one of only three individuals to have been President of the USGA and Captain of the Royal & Ancient Golf Club of St. Andrews. During his outstanding amateur career, Mr. Campbell participated in 15 US Opens, 18 Masters and 37 US Amateurs. He won the US Amateur in 1964.
Past Award Recipients
2003 Brad Heaven
2004 Gavin Flint
2005 Nicholas Thompson
2006 Jonathan Moore
2007 Rickie Fowler
2008 Danny Lee
2009 Daniel Woltman
2010 Andrew Yun
2011 Patrick Rodgers
2012 Richy Werenski and Curtis Thompson
2013 Michael Weaver
| Player | Northeast Am. | Player Am. | Porter Cup | Total |
| --- | --- | --- | --- | --- |
| Michael Weaver | +2 | -13 |  +5 | -6 |
| Ty Dunlap | +13 |  -2 |  -11 |  E |
| Todd White | -1 |  E |  +4 | +3 |
| | | | | |
| | | | | |
| | | | | |
| Matt MeSmith | +10 |  -4 | E |  +6 |
| Curtis Thompson | +3 | -1 | +5 | +7 |
| Richy Werenski | +3 | +2 | +2 | +7 |
| Rick Lamb | +12 |  +1 |  -5 |  +8 |
| Ryan McCormick | +17 | -1 |  +2 | +18 |
| | | | | |
| | | | | |
| | | | | |
| Billy Kennerly | +13 |  MC | | |
| Evan Beck | +2 |  MC | | |